Today we are excited to announce the general availability of the AT-VIE-1 zone in Vienna, Austria, for our S3 compatible Object Storage service! 🇦🇹
Already available in our German and Swiss zones, our Object Storage service is now available in every country served by Exoscale, offering a storage solution for your data across Europe, and in our ever-expanding locations.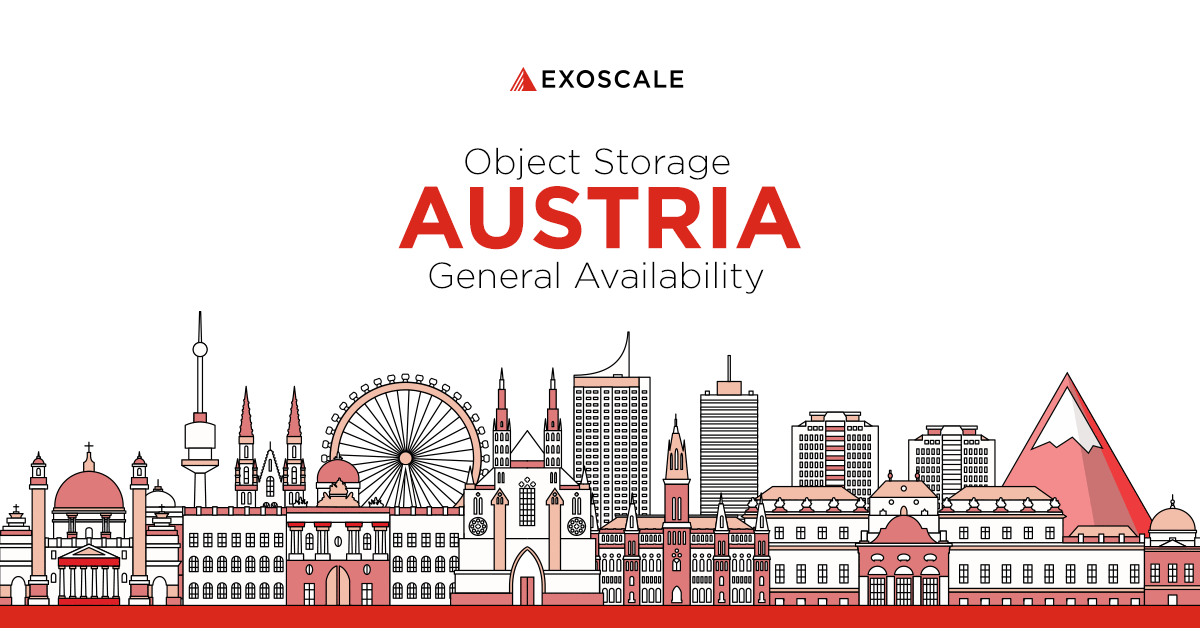 The DACH Object Storage solution to keep your data in your country.
As a truly European Cloud Provider, Exoscale knows the importance of keeping the data local, as required by multiple national regulations in several data-sensitive industries.
We have offered Object Storage services in Switzerland since 2014, and after opening our Frankfurt zone in 2017 we released the Object Storage in Germany last summer, taking advantage of a newly developed generation of its control software.
The same Object Storage has been chosen by the CERN HNSciCloud project to trial a hybrid cloud storage solution for their scientific Big Data workloads, aiming to store up to 1 Petabyte worth of data.
We are now offering the same high-quality service in Austria, covering the entire DACH region (Deutschland, Austria and Switzerland) with a reliable solution close to our customers, while other players choose a less local approach: it is not so long ago that Microsoft put an end to the deal with Deutsche Telekom, which was providing Microsoft cloud services under strict German jurisdiction.
Completely European owned, in partnership with A1 Digital, Exoscale provides a full GDPR compliant offer, with self service DPA and full transparency.
Simple pricing without surprises
We think that having a simple way to estimate the costs of your infrastructure is important, allowing you to focus on your product and not your budget. Our Object Storage service is available in every region at € 0.0180/month/GB, with no cost per request or upload, and a flat rate per transferred GB/out of € 0.0182.
No need to estimate pricing tiers, regional differences, or number of requests: a true simple Object Storage with great cost savings and uncompromising performance.