European Cloud Provider
Start your cloud server in just 30 seconds.
Scale to more servers easily as you grow.
Go cloud native and build amazing things.
Everything for cloud native applications.
Powerful concepts. Simple interfaces. Built for teams.
Easily use anti-affinity groups and spawn virtual servers in different data centers to ensure high availability. Securely configure firewall rules across any number of instances using security groups. Manage team members and control access to your infrastructure with organizations, keypairs and multi-factor authentication. Our simple and intuitive interfaces make powerful concepts easy to use for teams of any size.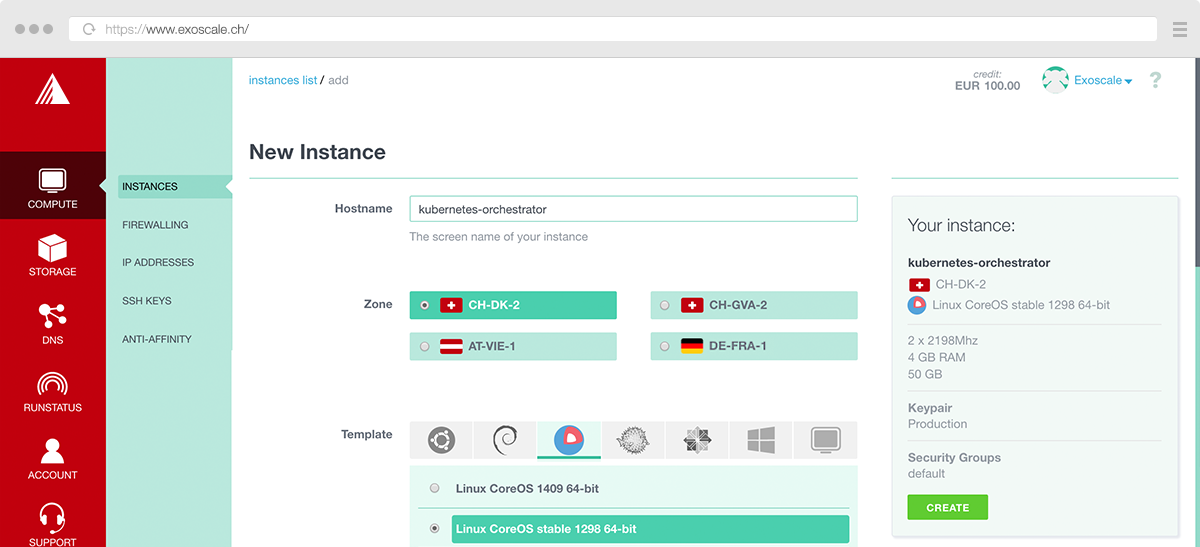 No surprises pricing. Start smart, scale hard.
Instance sizes for any workload.
From small clusters or even single servers to powerful big-data nodes.
One simple hourly price, prorated to the minute.
Industry leading price performance ratio.
True pay per use.
Cluster friendly traffic pricing.
Free internal traffic between all your instances.
Free in-bound and 1 TB/month free out-bound per instance.
Trusted by engineers across Europe.
When running mission critical production workloads in the cloud, a partner you can rely on makes all the difference. Our customer success engineers have helped hundreds of customers from all over Europe migrate, run and scale production workloads on Exoscale.
Contact us