Compute Instances
Scalable, On-demand Cloud Servers
A privacy-minded public cloud to host from simple applications to complex architectures. Start a virtual machine in seconds, and integrate current on-premises or hybrid-cloud deployments using standard DevOps tooling, would that be Terraform, Kubernetes, Ansible or the like.
Quick to get started
Start your first cloud server in seconds. Easily choose the perfect size, storage and data center for your server.
Easy to run and scale
Resize your cloud server or add servers to your cluster in seconds. You stay in control of your infrastructure.
Fully cloud native
Automate your infrastructure with our API and tooling integration. Go cloud native at your own pace.
A simple user interface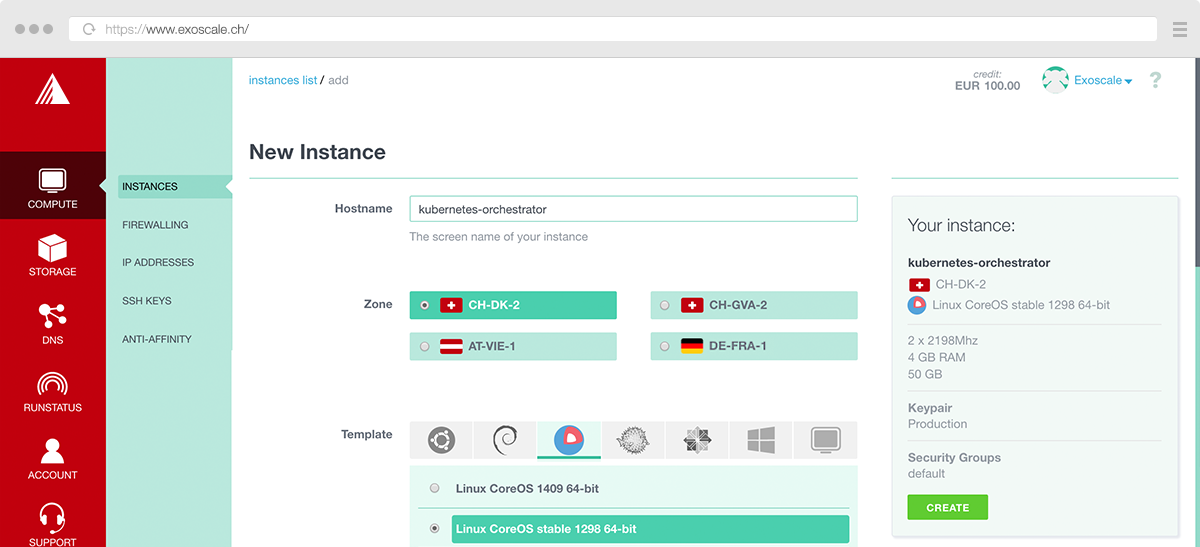 Cloud Server Features
Instances for any need

High-performance KVM powered virtual machines for any workload. Select from our pre-defined instance sizes to configure your cloud server's CPU cores and memory. From 1 core and 512MB up to 24 cores and 225GB memory.

Linux and Windows support

Select from Ubuntu, Debian, CentOS, Atomic or Container Linux, Windows or even OpenBSD. Easily run your cloud server on the operating system of your choice.

100% local SSD storage

All our instances are powered by enterprise-grade local SSD RAID10 storage for insane I/O performance and ultra low latency. And if you run our of space you can easily scale you storage any time. Read more

Security and anti-affinity groups

Assign Security Groups to automatically apply firewall rules and use anti-affinity groups to launch virtual machines on different physical hypvervisors ensuring high availability. Read more

Virtual machine snapshots

Take a snapshot of your cloud server to backup your data and configuration. Easily restore your instance to any snapshot with the click of a button. Read more

Custom Templates

Upload your custom configured template for your own usage. Quickly create new Instances customized to fit your needs, without having to configure them out from scratch. Read more

Cluster friendly traffic

Inbound traffic is 100% free. And if you run a cluster, all traffic between your nodes is free too and your loadbalancers get 1 TB of outbound traffic per node in the cluster. Read more

Live migrations

Our live migration feature makes sure that we can always keep the hypervisors up-to-date, improving performance and security without requiring reboots of your VMs.

Elastic IP

Assign additional public IP addresses to one or several instances in addition to its regular IP address. Read more

IPv6 enabled

All our instances benefit from public IPv4 and IPv6 addresses. These IP addresses are persistent across reboots. Read more

Builtin-in IAM

Granular Identity and Access Management gives you full control on what API keys can or cannot do. Read more

Instance Pools

Provision groups of identical Compute instances automatically, for High Availability and improved Elasticity Read more
Choose From a Wide Selection of Officially Supported Templates
Trusted by engineers across Europe.
When running mission critical production workloads in the cloud, a partner you can rely on makes all the difference. Our customer success engineers have helped hundreds of customers from all over Europe migrate, run and scale production workloads on Exoscale.
Contact us