Object Storage
An S3 Compatible Object Storage to store your assets, files, and metadata at a competitive price
A scalable, reliable, and cost effective Object Storage solution to support your application. Backup or serve your data from any Exoscale zone with no hidden fees, using your existing S3 compatible tooling and a familiar API.
Use your own S3 compatible tool
Easily integrate our S3 compatible Object Storage into any existing app or workflow, using your existing clients and libraries with no lock-in.
A Cloud native Object Storage solution
Object Storage is important when architecting cloud applications for scale. Get better scalability, reliability, and speed than just storing files on the filesystem.
For any kind of data, pay only what you use
Use Object Storage for static assets, user uploads or backups. We offer a performant solution with a fair pay-per-use pricing and no hidden costs.
A simple interface you and your team will love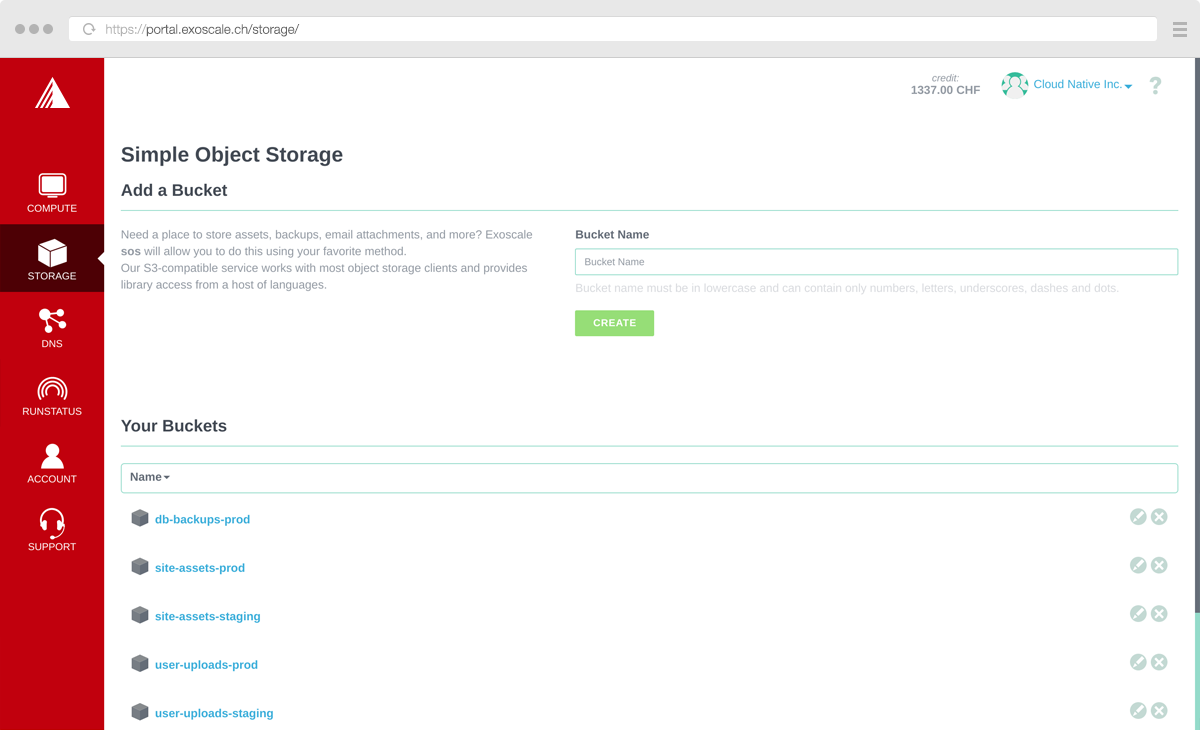 Object Storage features for Cloud Native implementations
S3 compatible API

Easily integrate our Object Storage solution in your apps using S3 compatible libraries. Or connect with a GUI or CLI tool. Simply set a new endpoint and credentials.

H/A Object Storage replication

We replicate data stored in our Object Storage on three different high-available nodes, in order to keep your important data safe. Our Object Storage SLA is covered by our general 99.95% availability SLA.

Direct HTTP/s access

Serve files directly from low latency, high bandwidth object storage via HTTP or HTTPS and keep your own servers free to do more important things.

ACL and CORS support

Set per bucket policies to manage permissions and control access. Or configure cross origin headers to use object storage from browser based applications and websites.

Metadata support

Store additional information about your objects in key-value pairs and easily access this metadata through HTTP headers in every Object Storage response.

Keep your data in your country

All data and replicas of our Object Storage service are stored in the country of your chosen zone, and the offering is available in every zone across Europe.
Trusted by engineers across Europe.
When running mission critical production workloads in the cloud, a partner you can rely on makes all the difference. Our customer success engineers have helped hundreds of customers from all over Europe migrate, run and scale production workloads on Exoscale.
Contact us