Dedicated Cloud Servers
A Virtual Private Cloud to Scale your On-premises Infrastructure
to a Hybrid Cloud
Build your own Virtual Private Cloud relying on a privacy-minded IaaS fully compliant to regulations and standards. Combine services like Private Networking, Private Connect and Dedicated Hypervisors to safely extend your existing on-premises insfrastructure to a Hybrid Cloud at a fraction of the cost.
Private networking
Self-service custom subnet allocation for your instances. Build private security appliances and IPSec VPN network gateways between public, private and corporate networks.
Dedicated hypervisors
Deploy virtual servers on dedicated hypervisors for your organization. Maximize security with complete data isolation and guarantee absolute performance.
Private Connect
Directly connect to Exoscale zones using your own 10G connectivity to reduce latency, costs, and internet limitations.
VPC is managed with the same and simple interface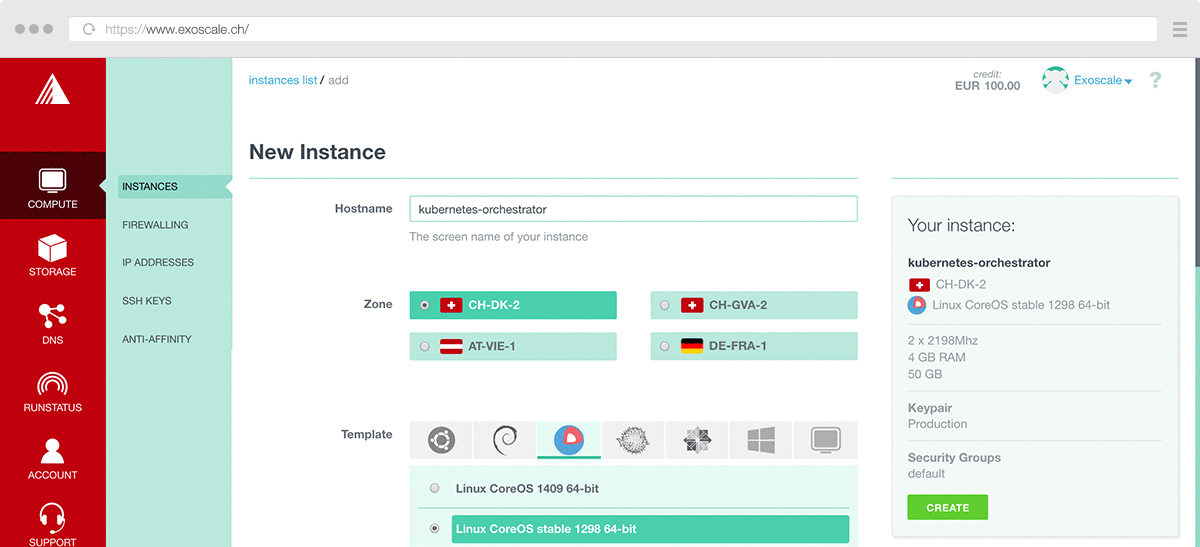 VPC Cloud Servers Features
Virtual private cloud

Optionally combine private networking, private connect and dedicated hypervisors to build your own virtual private cloud.

Teams friendly

Contribute with your coworkers on your vpc environments. Invite others to join as Owners, Tech or Admin roles.

2-factor authentication

Enforce 2 factor authentication to access your virtual private cloud portal with Exoscale.

Low commitment

Private networks are available on shared and dedicated hypervisors for improved isolation. Grow your vpc gradually.

Aggregated billing

Manage multiple organizations from the same account and receive a consolidated bill. Great for large enterprises with multiple departments.

Direct connectivity

Select from a variety of options to configure direct network connectivity to Exoscale with Private Connect, Equinix Direct Connect or VPN options.
Trusted by engineers across Europe.
When running mission critical production workloads in the cloud, a partner you can rely on makes all the difference. Our customer success engineers have helped hundreds of customers from all over Europe migrate, run and scale production workloads on Exoscale.
Contact us