DNS
Simple, Low-latency DNS Zone Hosting
Take full control of your DNS. Automate deployments. Control new records and zones via CLI, API or web portal. Easily integrate with Let's Encrypt to simplify deployment of TLS certificates for your applications.
Quick to get started
Integrated DNS for your cloud servers. Easily manage your servers and your DNS from the same interface.
Per zone pricing
Simple per-zone pricing with unlimited queries. Never worry about unpredictable costs. DNS made simple.
Fully cloud native
From ALIAS records to full API access and unlimited records. Cloud native DNS for your infrastructure.
A simple interface you and your team will love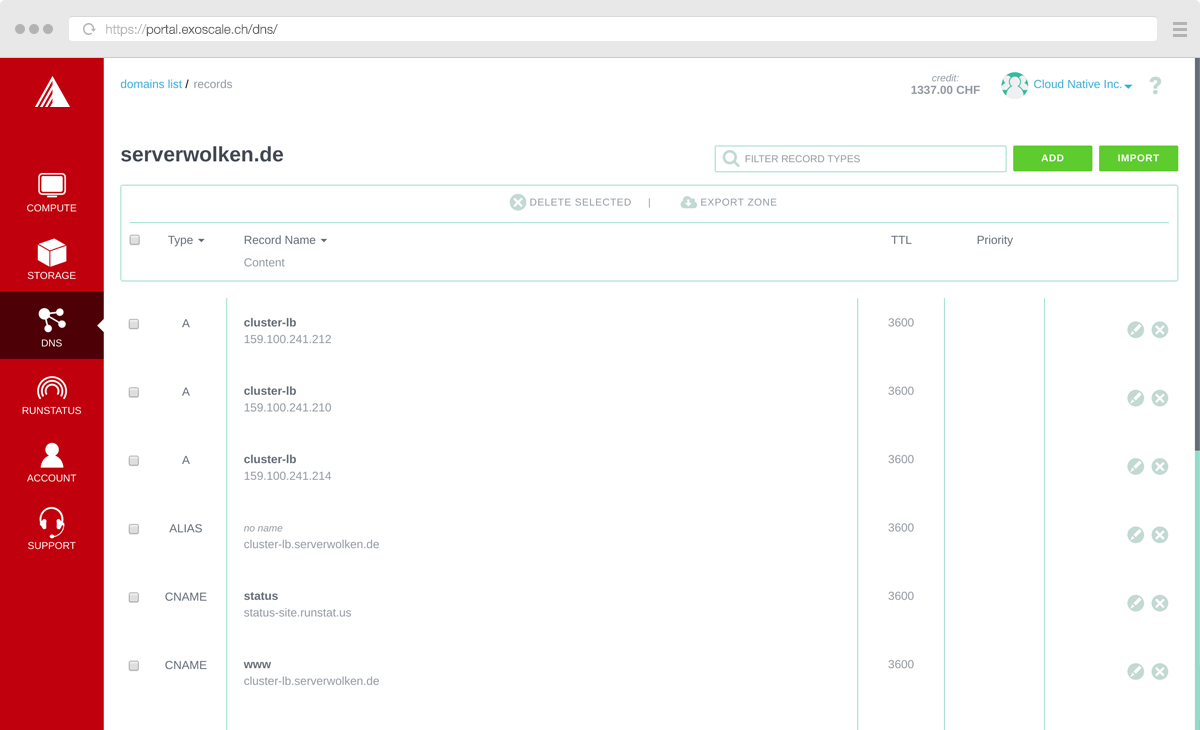 DNS Features
Geo-replication

All your zones are replicated to over 40 servers worldwide. This makes sure your DNS is always available from anywhere in the world and queries can be anycast routed.

Anycast DNS

Speed up your sites with faster DNS resolution. Anycast DNS answers your user's DNS queries from the geographically closest server. Shaving off valuable milliseconds from each request.

ALIAS support

ALIAS records provide CNAME like behaviour for root or apex domains. Giving you the flexibility of a CNAME record but behaving like an A record for your users.

Easy redirects

Use URL records to redirect users without having to configure your web server. This can be useful to redirect the www to the non-www version of your site.

All common records

All common DNS records are supported. You can easily setup MX, TXT, SRV records and many more. Full control over your DNS is key for any cloud native infrastructure.

Powered by Dnsimple

We have partnered with the DNS experts from Dnsimple to provide you a simple but powerful DNS service fully integrated into our interface.
Trusted by engineers across Europe.
When running mission critical production workloads in the cloud, a partner you can rely on makes all the difference. Our customer success engineers have helped hundreds of customers from all over Europe migrate, run and scale production workloads on Exoscale.
Contact us