Today we introduced our new service offering Database as a Service (DBaaS). DBaaS allows users of the Exoscale platform to easily deploy relational and distributed databases - without any security compromise.
DBaaS Preview Launch
Database as a Service on the Exoscale platform is the next step towards enabling customers having the complete cloud infrastructure within one interface. True to our values we relied again on open source projects. For our new service offering we rely on our partner Aiven, a leading European company for managing open source data infrastructure in the cloud.

After a successful early-adopters phase, we are starting today with the Preview Phase. Within this phase customers are able to use a limited set of managed databases available in all Exoscale zones.
All database options come with different plans, to best fit the needs for each individual application and project. Customers can seamlessly switch between all offered plans.
In our webinar we went into more detail about our new service and how to set up your database with our CLI. Watch the full webinar recording below: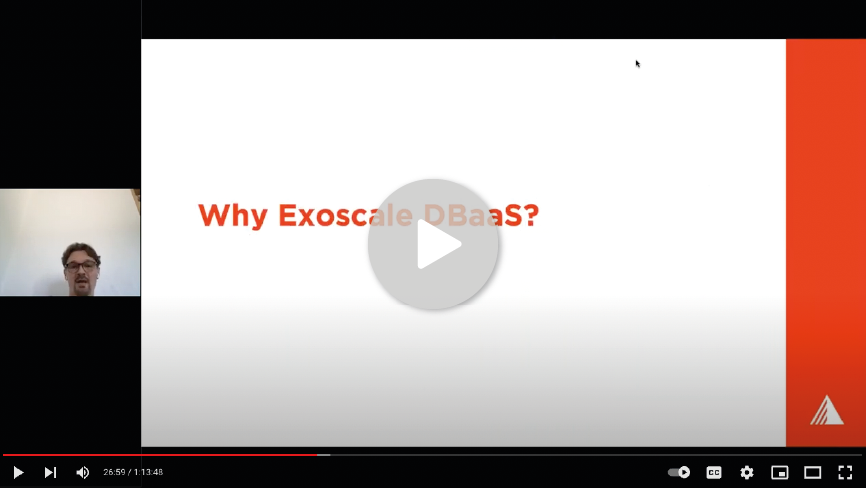 Until General Availability (GA), expected at the end of summer 2021, users of our DBaaS offering will not be charged for the service. Customers will be able to access the service via CLI only until GA.
DBaaS: Features
All managed databases come with the following features:
No vendor lock-in to keep your infrastructure independent and flexible.
A complete integration into our Exoscale platform.
Safe storage of your data in your chosen Exoscale zone across Europe. Stay end-to-end GDPR compliant with your databases.
Fully managed by Exoscale and powered by Aiven. Users do not need to care about maintenance or upgrades.
Furthermore, our database offerings have a TLS encryption for data in transit and are additionally encrypted in rest. Our managed databases are easy to upgrade with just one click and enable customers to continuously stay up-to-date.
Outlook
Within the next few weeks and months we will expand our list of offered databases and enable further DevOps tooling options like the Exoscale web portal and API access.