Working with others on Exoscale just got a lot easier: we have released organization support in the web portal, making it much easier to share access to an account with your colleagues.
An organization is like a fully-featured Exoscale account, but its access can be shared with others. Organization accounts are accessed using your own Exoscale account credentials, via a simple "Switch account" menu item: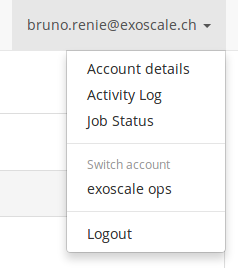 After creating an organization account, you can freely invite as many people as you want. Access can be restricted in different ways using roles:
admin roles can edit your account details and make payments. They cannot spawn instances or applications nor even see running instances.
tech roles can manage resources being used (instances, apps). They cannot make payments or edit administrative information.
owner roles can do all of the above and invite or revoke team members.
When you invite users to your organization, they receive an email notification to let them know that they have access to it.
Organizations are available to everyone at no cost and include unlimited users. Note that billing is handled separately from your personal account: when you create an organization, it has a credit of 0 and only becomes usable once you top it up with a payment.
Go ahead, create your organization and let us know what you think!