Exoscale Cloud Storage is now fully integrated with CloudBerry. The Cloudberry software suite comprises of several useful tools for our Windows user community:
Cloudberry Drive
Cloudberry Managed Backup
Drive
The Cloudberry drive product bridges 2 worlds together by enabling you to map the Exoscale Object Storage to a network drive in any Windows server. It also works on a desktop too, along with the associated tool Cloudberry Explorer.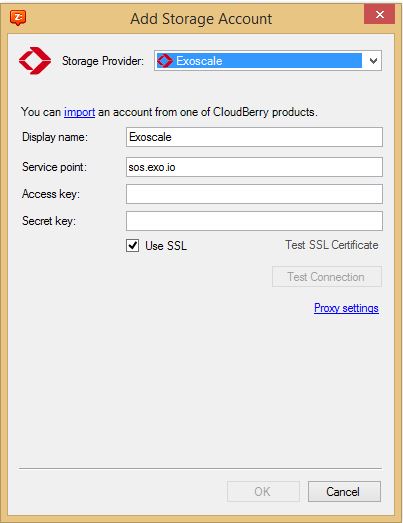 CloudBerry Drive mounts your Exoscale Cloud Storage account to your Windows computer and you can work with files in Exoscale Cloud directly from Windows Explorer, as you do with files on local drive:
Map Exoscale Cloud Storage as a network drive
Drag and drop files to Exoscale Cloud and back
Work with Exoscale Cloud directly from your apps
Compression and Encryption AES-256 Bit
Master password
Queue thread count and Upload rules
Contact Exoscale to get Cloudberry drive at 50 % discount. Limited time offer until August 31st.
Backup
This product enables SMB and Enterprise-level customers to build up and manage backup for the whole business IT-infrastructure easily.
With CloudBerry Managed Backup you can:
Leverage your investments in Exoscale storage and store your data safe in the cloud.
Remotely manage and monitor backups on the employees computers. Control everything from a web panel, which comes with a set of tools to remotely provide initial backup setup, as well as to ongoing support.
Learn more about main backup features
How it works
You control all backups through the CloudBerry Managed Backup Service console. After the client component is installed on the user end, you'll see backups on the control panel and have full access to backup management functions.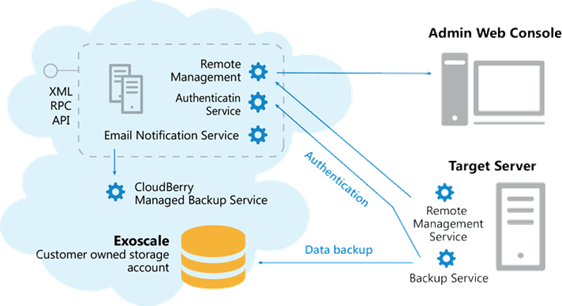 Getting Started
Sign up for FREE at http://www.cloudberrylab.com/mbssignup.aspx. (No credit card required). Getting Started Wizard will help you setup you account in a few simple steps. You will get a free 15-day trial per computer. All licenses come with 15 day trial to allow you and your customers evaluate the product before buying commercial licenses.