QuTScloud - Cloud NAS
Product Overview
For organizations which have stored most of their data on the cloud but lack a good management system to capitalize their digital assets, QuTScloud, as a cloud NAS can provide an excellent data management solution in assisting organizations in optimizing their cloud data and maximizing the value of the cloud.
Main features of QuTScloud
Storage expansion: Use HybridMount to mount object storage to QuTScloud and expand storage
Data sharing: Supports standard NAS data sharing protocols like SMB/CIFS, NFS, AFP and iSCSI in the cloud
Efficient data backup: QNAP's QuDedup technology empowers backup tasks with source-side deduplication
Data security: QNAP's proprietary VPN protocol, QBelt, helps to build a secure connection between your LAN and QuTScloud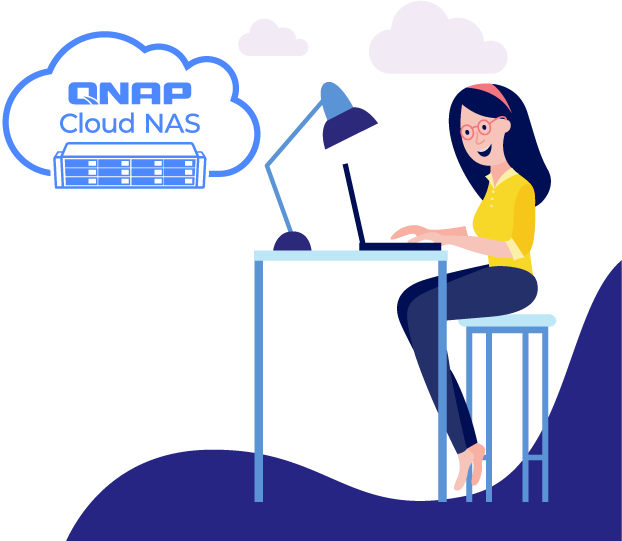 Highlights
The pricing is based on the number of CPU cores deployed for the instance and is independent of the attached storage capacity
Provides numerous productivity enhancing apps for data storage and recovery"
Editor Details
QNAP is devoted to providing comprehensive solutions from software development, hardware design to in-house manufacturing. Focusing on storage, networking and smart video innovations, we strive to build a technology ecosystem upon subscription-based software and diversified service channels. qnap.com
Maintainer Details
This template is maintained by its editor.
Refer to the editor detail for more informations.
Usage & Technical Prerequisites
A detailed guide describing how to get started with QuTScloud on Exoscale is available at: https://www.qnap.com/en-us/how-to/tutorial/article/how-to-deploy-and-install-qutscloud-on-cloud-platforms
The default username when launching your new QuTScloud instance is "admin". The password is the MAC address of the QuTScloud instance using all capital letters and without any special characters.
QuTScloud requires an Internet connection to verify licenses.
A minimum of 2 GB of memory is required for running QuTScloud (at least 4 GB memory is recommended). Allocate sufficient memory to your QuTScloud virtual machine to ensure system stability and performance.
Version Details
QuTScloud is available in the following versions
Pricing
This offical QNAP QuTScloud template is "Bring Your Own License". You can purchase QuTScloud licenses on the QNAP store. The license must match the number of CPU cores of the instance type you plan to use for hosting the solution.