oneclick™ VDI & DaaS "À la carte"
Product Overview
Work from anywhere, safely and with lean structures and costs
oneclick™ is a Platform-as-a-Service (PaaS) for the provisioning of digital workspaces. Via an interface, oneclick™ is connected to the Exoscale Cloud and includes comprehensive automation tools as well as a management, delivery and security layer for the deployment of turnkey VDI environments.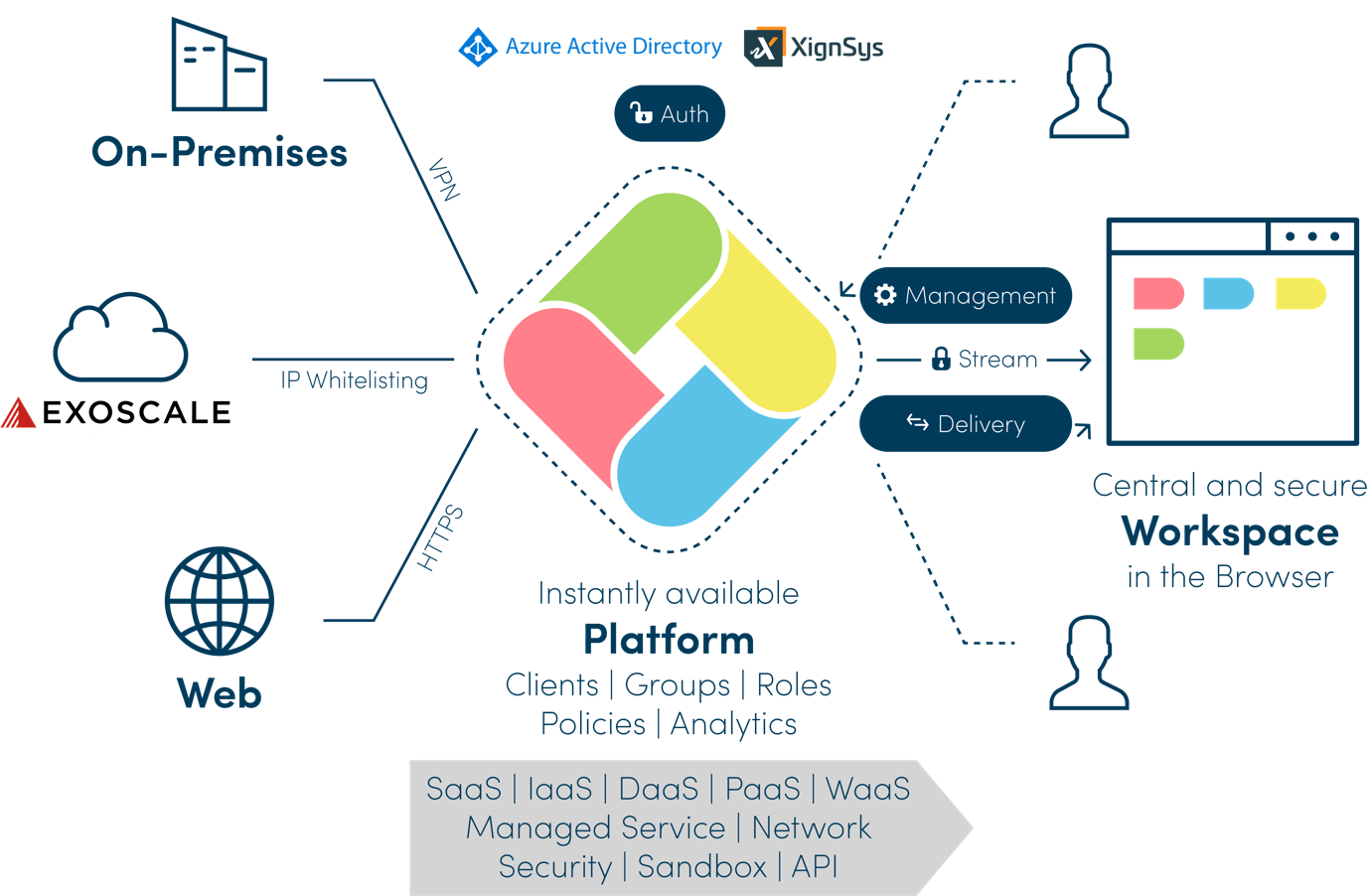 oneclick™ eliminates on end devices both the cumbersome installation of software and the setup of (VPN) connections to server locations. Encrypted streaming of remote desktops, applications and data into the web browser provides a secure and centralised working environment for the office, home office or on the road.
Features
a fully personalised, secure web portal for access to all assigned apps across all operating systems (Native Windows, Linux, MacOS & Web).
extremely fast, self-developed streaming protocol for smooth remote work as well as optimised mouse and keyboard inputs for mobile devices.
mounted drive that can be paired with any application, including drag-and-drop file upload and offline functionality.
automated connection of existing server locations to bring legacy applications instantly up to the state of the art.
via interfaces, create and manage new virtual machines using Exoscale infrastructure – for a successful cloud transformation.

Simplified deployment, imaging and scaling on Exoscale
With oneclick™ you can read out existing environments from the Exoscale Cloud, and – without specialist knowledge – create networks and set up and manage new remote desktops with the required specifications and operating system. You can use pre configured or self-made images. Depending on the workload, the sizes of the VMs can be adjusted during live operation. Necessary firewall rules can be set directly in oneclick™ and easily administered.
Additional certified security
The oneclick™ platform acts as an additional tested and certified security layer with a Zero Trust Network architecture, whereby the Security Operations Center (SOC) is operated by recognised cyber security experts. Entire workspaces or individual applications can be secured with a 2nd factor.
Added values of the VDI solution from Exoscale + oneclick™
Optimise costs
Using event profiles, cloud resources from Exoscale Cloud can be switched on and off automatically. This allows you to adapt the operation of the utilised VMs to the actual working hours of your users and optimise infrastructure costs. From the Pay-as-You-Go pricing model of Exoscale Cloud, offers can be created at fixed prices.
Implement hybrid models
With oneclick™ it is also possible to implement hybrid workplace concepts, where the workload of certain applications is operated in the Exoscale Cloud, while other applications and data are hosted locally in the company's own data centre to meet special compliance requirements.
Downloads
Highlights
Quick Facts
Ready-to-use remote desktop from the Exoscale Cloud
No in-depth specialist knowledge required (managing without scripts)
Easy to understand
Step-by-step instructions
Simple composition of the remote desktop as desired
oneclick™ takes care of:
Technical setup in the Exoscale Cloud
Secure and fully automated provisioning of the VDI solution for convenient use via any current web browser on all end devices
Plans
User for one app / Pay-per-License

From 8.00 EUR per month (annual subscription)

User Licenses

User Basic

Central use of more than one app via the oneclick™ Desk

False

1GB Hybrid Drive storage for data transfer between connected and local device

True

Hybrid Drive App for sharing files

False

Cyber-Assurance

Standard (up to 250 € coverage per user)

2-factor authentication

True

Access to a connection destination from on-premises, cloud or web infrastructure

True

No minimum order quantity

True
Editor Details
oneclick AG, headquartered in Zurich, Switzerland, and innovation engine in Traunstein, Germany, specializes in the development and operation of a cloud platform for the automated and secure deployment of digital workspaces. The oneclick™ cloud platform is the easiest, fastest and safest way to provision all business applications and data and connect users to it. As a central access and distribution platform in the cloud, oneclick™ enables the management of the entire technology stack for application provisioning. The goal of oneclick AG is to play a major role in shaping and improving end-user computing.
Pricing
Product setup
oneclick™ service consists of at least one "User license" and one "App license". There are two types of users - Basic and Professional. The "Basic user" can access one app. Choose the "Professional User" if you want to use more apps.
The "Standard App" license offers a resolution of up to Full-HD, while the "Professional App" supports even 4K.
User Basic
oneclick™ User Basic licenses allow direct access to one connection target, such as software, desktop, terminal server, internal or public website. This connection target can be integrated into Office 365 or Google G Suite, for example, or accessed via a shortcut on your end device.
| | Annually | Monthly |
| --- | --- | --- |
| 1 User (Pay-per-License) | 6.75 € | 8.15 € |
| 1 User (Pay-per-Pool) | 8.00 € | 9.40 € |
| 1 User (Pay-per-Use) | 9.30 € | 10.70 € |
| 1 GB Hybrid Drive (Add-On) | 3.00 € | 3.00 € |
User Professional
The user professional license for multiple app delivery, complete user management as well as orchestration of any infrastructure resources with cyber assurance standard.
| | Annually | Monthly |
| --- | --- | --- |
| 1 User (Pay-per-License) | 10.50 € | 14.50 € |
| 1 User (Pay-per-Pool) | 14.25 € | 18.25 € |
| 1 User (Pay-per-Use) | 18.00 € | 22.00 € |
| 1 GB Hybrid Drive (Add-On) | 3.00 € | 3.00 € |
App licenses
You can use an app to make a resource (on-premise, web or cloud) connected in oneclick™ available to a user. The user gets access to it via a tile on his desk, which authorizes him to use this connection target.
| | Annually | Monthly |
| --- | --- | --- |
| 1 Standard App (Pay-per-License) | 2.00 € | 2.60 € |
| 1 Standard App (Pay-per-Pool) | 2.60 € | 3.20 € |
| 1 Standard App (Pay-per-Use) | 3.20 € | 3.80 € |
| 1 High-Performance App (Pay-per-License) | 7.50 € | 9.75 € |
| 1 High-Performance App (Pay-per-Pool) | 9.75 € | 12.00 € |
| 1 High-Performance App (Pay-per-Use) | 12.00 € | 14.25 € |
Support and Consulting Services
Support
Price
Paid support (for requests not included in the support program according to SLA)
per started 15 minutes
30.00 €
Consulting Services (for project management, setup, configuration, maintenance and the like)
per hour
140.00 €
Consulting Services (Sunday/Night + 50 %)
per hour
210.00 €
VPN Endpoint
Complete set up of a VPN endpoint in the network of the server to be connected, incl. VM - setup fee 75.00 €
Additional Options
Service
Annually
Monthly
Ezeep Print Management
1 user
1.99 €
1.99 €
F-Secure Endpoint Security
1 user
3.30 €
4.40 €
USB-Redirection Client
1 user
5.00 €
6.50 €
XignSys
1 user
0.59 €
0.59 €
Microsoft Annual licenses
Service
Annually
Microsoft Office 365 Enterprise E3
1 user
19.70 €
Microsoft Office 365 Enterprise E5
1 user
34.40 €
Microsoft 365 Enterprise E3
1 user
31.50 €
Microsoft 365 Enterprise E5
1 user
53.70 €
Microsoft SAL
1 user
8.50 €
Billing Model
Pay-per-License
In the Pay-per-License model, the customer pays for the oneclick™ user per license indepently of the usage.
Pay-per-Pool
In the Pay-per-Pool (concurrent) model, the customer pays for the oneclick™ user licenses a fixed price per created user for the hybrid drive. In addition, a premium is charged for a selected number (pool) of user licenses that can log in simultaneously. Any number of users can be created.
Pay-per-Use
In the Pay-per-Use (concurrent peak) model, the customer pays for the oneclick™ user licenses a fixed price per user for the Hybrid Drive. In addition, a surcharge is calculated for all users who have accessed simultaneously in the "peak" during the course of a month. Any number of users can be created.
Usage & Technical Prerequisites
Service and Support
Support
oneclick support is available Monday to Friday 8:00am -16:00pm (CET) by e-mail (support@oneclick-cloud.com) or phone by calling 0800 150 2400.
Terms of Service
By using this product, you agree to terms and conditions of the provider: