Nextcloud managed by Glasskube
Product Overview
Nextcloud is an Open Source platform designed for content collaboration that offers real-time document editing, video chat, and groupware functionalities. These features are accessible across multiple platforms - mobile, desktop, and web.
Nextcloud Files: Nextcloud Files facilitates seamless access, sharing, and collaboration on files, photos, and documents for users, regardless of their location. It also provides sync client support for a variety of platforms, including Windows, Mac, Linux, Android, and iOS.
Nextcloud Talk: Nextcloud Talk ensures that your online dialogues, meetings, and video conferences remain confidential and protected within your Nextcloud instance
Nextcloud Groupware: Nextcloud Groupware provides a user-friendly interface for web mail, calendar, and contacts, enhancing your team's productivity by streamlining tasks. It's integrated seamlessly with Nextcloud Files for added convenience.
Nextcloud Office: Nextcloud Office is a robust online office suite featuring collaborative editing. It supports all key file formats for documents, spreadsheets, and presentations and is compatible with all contemporary browsers.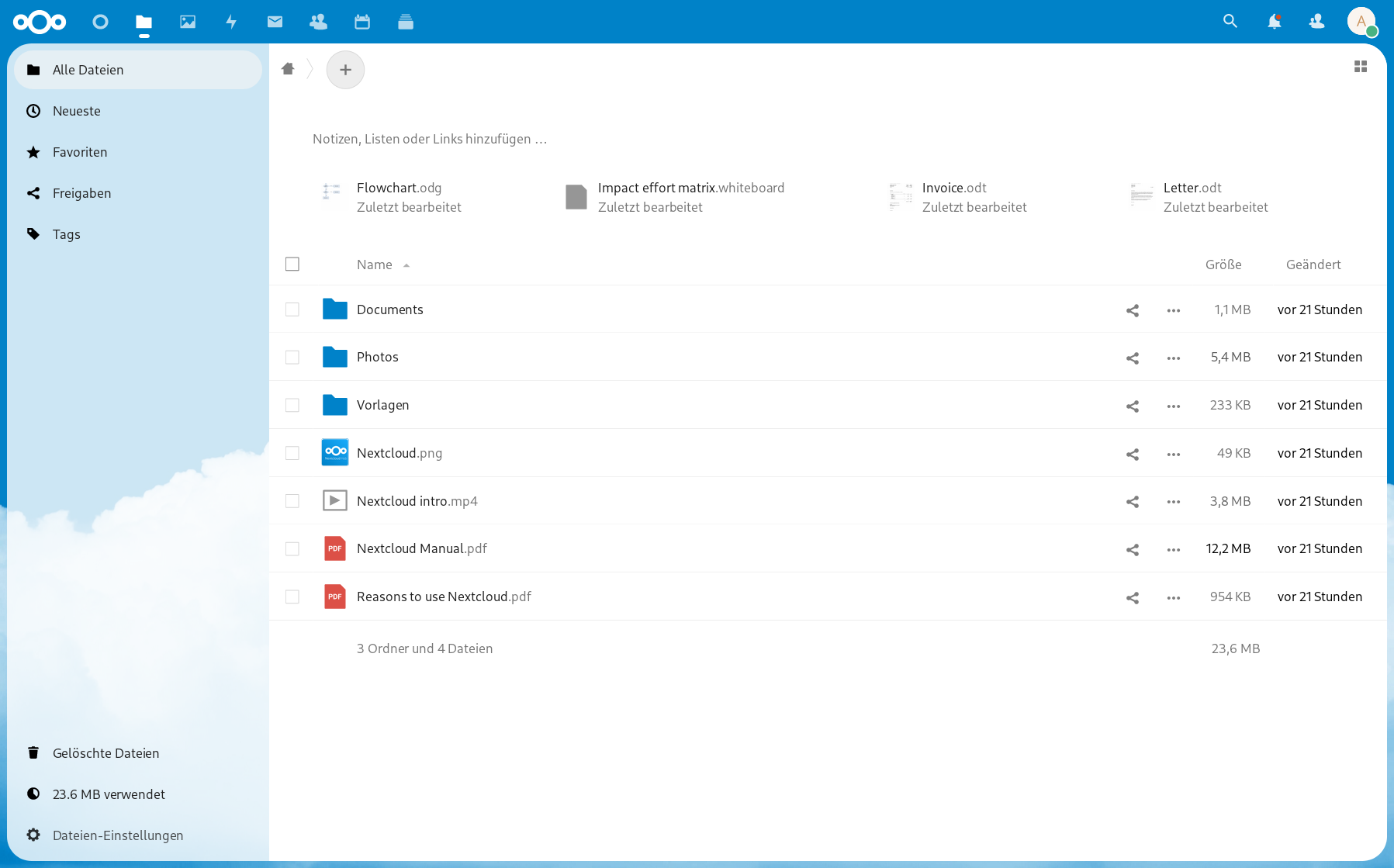 Highlights
Start for free: Test Nextcloud managed by Glasskube the first 7 days for free!
Instant setup: Set up Nextcloud on Exoscale infrastructure in less than 5 minutes
Managed: Fully managed application life cycle
Automated updates: Glasskube ensures managed services are in the latest most secure version
Automated backups and rollbacks: Daily backups are performed automatically with the possibility of rollbacks.
24/7 monitoring: Additional expert support is available
High availability: Guaranteed uptime of 99.5 %
Storage: Files are stored exclusively on Exoscale simple object storage (SOS) with the possibility to bring your own bucket
Editor Details
Glasskube is a pioneering European company that is transforming the way Open Source Software is deployed in cloud native infrastructures. With a focus on automation and privacy, Glasskube offers managed Open Source Software on robust DACH infrastructure. This approach allows businesses to concentrate on their core competencies while ensuring that their software is constantly up-to-date and seamlessly scalable to meet evolving needs.
Additionally, Glasskube places a strong emphasis on data protection and data security, ensuring that all information remains secure within a privacy-focused environment.
Pricing
Free usage for the first 7 days.
Glasskube offers 2 different billing options:
Monthly subscription: billing monthly.
Yearly subscription: billing yearly within the first month of the subscription.
For choosing the yearly subscription you will receive a discount.
The subscription is automatically renewed for an additional period of the same duration as the initial subscription, unless you cancel the subscription at least thirty (30) days prior to the end of the current subscription term.
| | Starter | Professional | Enterprise |
| --- | --- | --- | --- |
| Description | For Test- and Staging Environments and teams up to 10 Users | For Production Environments and High Availability Hosting for up to 100 Users | Dedicated high availability Hosting for Enterprises in dedicated Cluster |
| Memory | 1 GB | 4 GB | flexible |
| Storage | 100 GB | 600 GB | flexible |
| Nodes | 1 | 2 | flexible |
| Nextcloud Files | Yes | Yes | Yes |
| Nextcloud Talk | Yes | Yes | Yes |
| Nextcloud Groupware | Yes | Yes | Yes |
| Nextcloud Office Online Collabora Server | No | Yes | Yes |
| Bring your own SOS bucket for unlimited storage | No | Yes | Yes |
| Infrastructure Costs Included | Yes | Yes | Not included |
| Pricing per month | 69 EUR | 219 EUR | On request |
| Yearly discount | 2 Months for Free | 2 Months for Free | On request |
Usage & Technical Prerequisites
You need to be an active Exoscale customer and have an existing Exoscale account.
Service and Support
Support
Glasskube support is available during office hours, Monday to Friday 9:00 - 17:00 (CET) by e-mail (support@glasskube.eu).
Starter
Professional
Enterprise
Incident Response Time
Best Effort
Within 8 hours
Within 1 hour
Incident Support Availability
Best Effort
Office Hours
24/7
24/7
Support Channel
Ticket
Ticket, Phone
Ticket, Phone
Uptime
Best Effort
99.5%
Up to 99.95%
Terms of Service
By using this product, you agree to terms and conditions of the provider:
Others
Unless otherwise requested by the end-customer, Glasskube operates the Open Source Software in their free Community Edition. Therefore, the Open Source Software can be used free of charge. Any additional costs (e.g. enterprise license fees of Open Source Software in case of a software upgrade) are not part of Glasskube's monthly fee and will be paid separately to the Open Source Software provider. Glasskube is solely responsible for performing the tasks specified in the Order Form as well as the Managed Service Agreement.