APPUiO Managed OpenShift - by VSHN
Product Overview
APPUiO Managed provides a fully managed Red Hat OpenShift Container Platform 4 cluster on the Exoscale cloud infrastructure. VSHN provisions and maintains the OpenShift cluster throughout its lifetime and makes sure it's running and available to the user of the platform. The user of OpenShift gets support and operations from VSHN.
It is based on Red Hat OpenShift Container Platform 4, operated by VSHN on the Exoscale cloud infrastructure matching the needs of the applications running on it.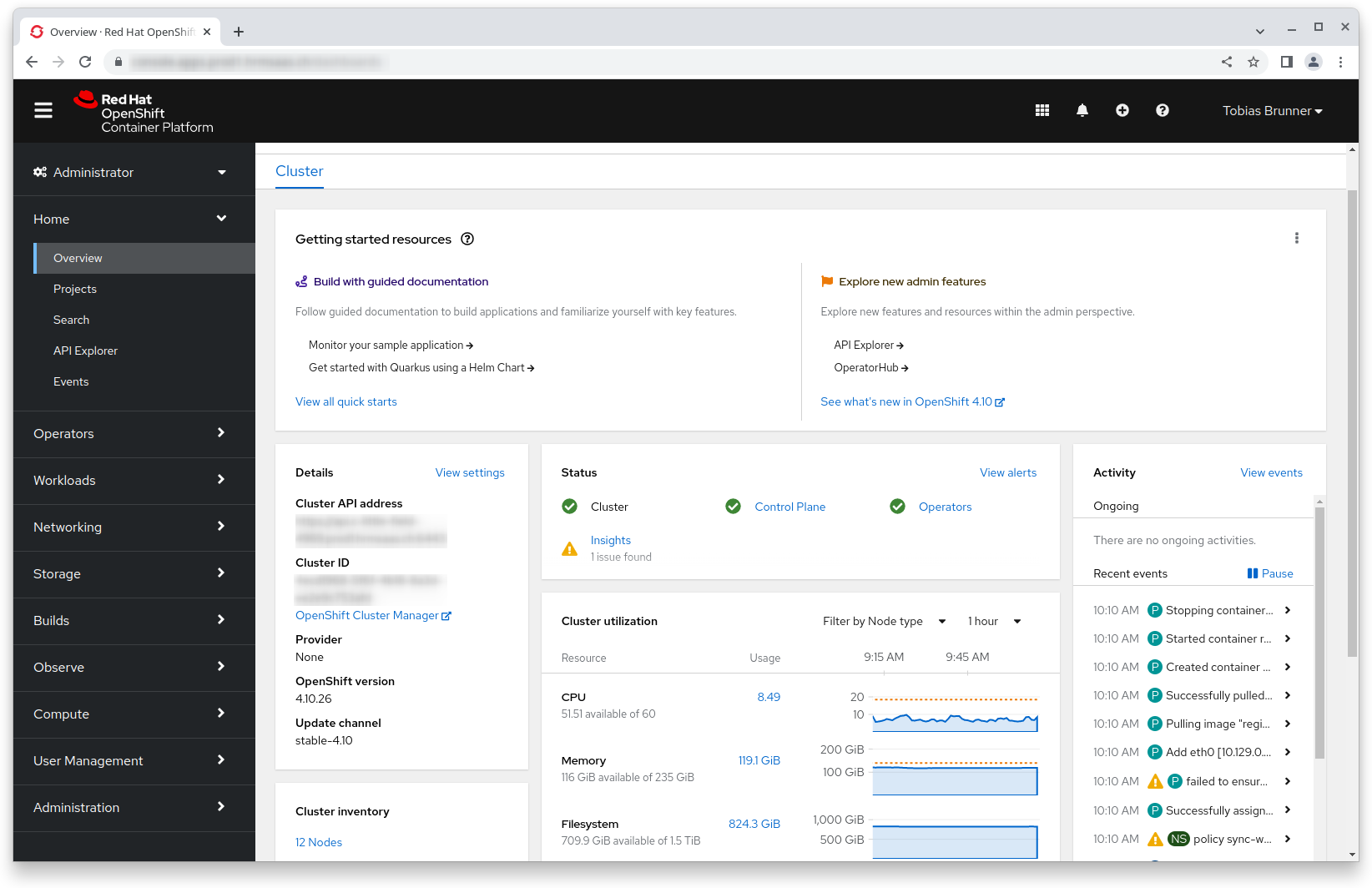 Highlights
Cluster provisioning Provisioning of a Red Hat OpenShift 4 cluster on Exoscale.

Cluster maintenance The cluster components (control plane and worker nodes) are regularly maintained and updated with the latest patches and releases.

Backup Regular backup of cluster configuration.

Monitoring and Alerting Monitoring of cluster and system services functionality and alert handling according to the SLA. Alert rules and thresholds are continuously assessed and regularly maintained.

Metrics Metrics emitted by all system services and the Kubernetes cluster components are continuously collected and presented in a graphical way.

System Services A variety of system services are included, pre-configured, ready to be used.

Persistent Storage Persistent storage is available out of the box with Kubernetes CSI (Container Storage Interface) as supported by the infrastructure provider. Additional persistent storage options are available on request.
Editor Details
VSHN (pronounced ˈvʒn like "vision") is Switzerland's leading DevOps, Docker, Kubernetes, OpenShift, Rancher, and 24/7 cloud operations partner.
VSHN was founded with the intention to fundamentally shake up the hosting market. As a lean startup, we have focused on operating IT platforms through automation, agility, and a continuous improvement process. Completely location-independent and without our own hardware, we operate extensive applications according to the DevOps principle agilely and 24/7 on every infrastructure, so that software developers can concentrate on their business and IT operations are relieved.
Technical Documentation
Architecture
APPUiO Managed is based on Red Hat OpenShift 4, a leading enterprise Kubernetes container platform, and supports moving applications to the cloud increasing productivity and innovation.
APPUiO Managed is Red Hat OpenShift 4 Cluster as a Service: profit from our long-term experience as the first Swiss container platform and make use of all the advantages provided by Kubernetes with many additional add-ons and services.
Capabilities and components
APPUiO Managed is a one-stop solution. We help our customers all along the value creation chain of both their platform and application, from planning to installation to operations.
Additionally, we're glad to assist you with our long-standing experience with container technologies. All collaboration is organized modular and our services can be procured individually or bundled. We're not only providing help with architectures, setup, and operations but also offer 3rd-Level-support, professional training for both operating and monitoring OpenShift and other container solutions as well as consulting all around the topics of "Moving Apps to the Cloud", "DevOps-Automation" and much more.
Service and Support
APPUiO is operated by VSHN AG in Zurich, Switzerland.
Several SLAs are available on request, offering support 24/7.
More details can be found in the VSHN Service Levels Documentation.