APPUiO OpenShift Container Platform - by VSHN
Product Overview
APPUiO is the leading OpenShift Container Platform when it comes to design, development and operation of applications. Based on reliable Open Source concepts such as Docker and Kubernetes, APPUiO enables DevOps: APPUiO facilitates the cooperation between Developers and Operations with Continuous Delivery and its self-service infrastructure.
APPUiO:
is the platform for the containerization of applications
improves the cooperation between software developers and business organization (DevOps)
is OpenShift-as-a-Service
increases speed through shorter lifecycles, automation & selfservice
allows you to concentrate fully on the business - the application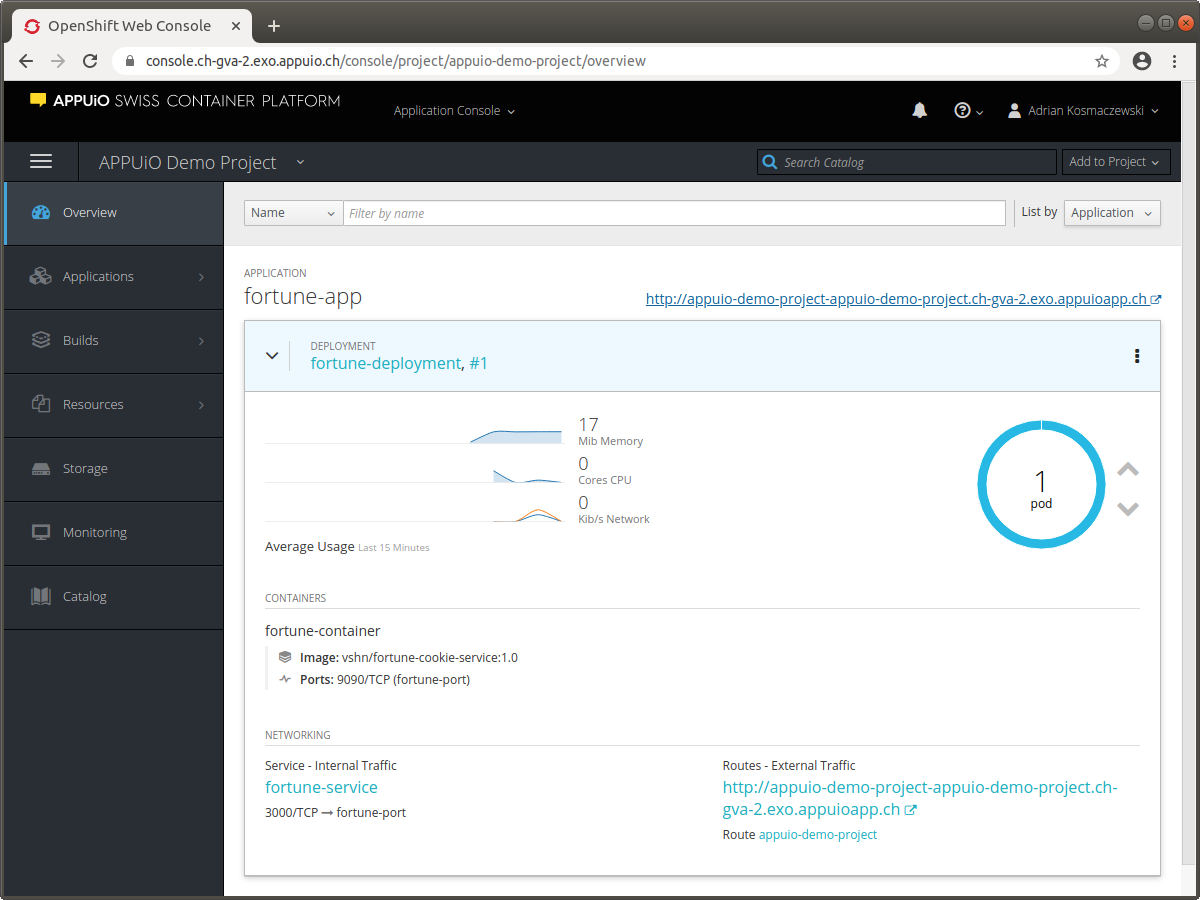 Highlights
Fast time-to-market With APPUiO, you can automate the building, testing and deployment of your applications. Additionally, you save time in relation to monitoring and updates. Releases become easy.

Foster collaboration APPUiO facilitates cooperation between Developers and Operations with Continous Delivery and it's Selfservice-Infrastructure. Applications can be deployed and operated by yourself.

Consistent and open The development environment on your laptop is looking different from the production environment? With APPUiO all environments are standardised. OpenSource software and open standards are the foundation of our platform.

Self-Service It only takes a few seconds from ordering your own platform to using it. And yet you're independent of other teams and persons and in full control. Start you very own Container platform right now!

High security standards APPUiO is using SELinux, Let's Encrypt and offers Federation Authentication (LDAP connection). Data on the Public Platform is stored in ISO-certificated data-centres in Switzerland.

Reduce costs When using APPUiO, no internal costs for setting up a platform or acquiring know-how are generated. Costs are always transparent and can be controlled and adapted on our portal at all times.
Editor Details
VSHN (pronounced ˈvɪʒn like "vision") is Switzerlands leading DevOps, Docker, Kubernetes, Openshift, Rancher and 24/7 cloud operations partner.
VSHN was founded with the intention to fundamentally shake up the hosting market. As a lean startup, we have focused on operating IT platforms through automation, agility and a continuous improvement process. Completely location-independent and without our own hardware, we operate extensive applications according to the DevOps principle agilely and 24/7 on every infrastructure, so that software developers can concentrate on their business and IT operations are relieved.
Technical Documentation
Architecture
APPUiO is based on Red Hat OpenShift, the leading enterprise Kubernetes container platform, and supports with moving applications to the cloud and to increase productivity and innovation.
APPUiO is OpenShift as a Service: profit from our long-term experience as the first Swiss container platform and make use of all the advantages provided by OpenShift with many additional add-ons and services.
APPUiO is available in the following architectures:
Public: You can deploy your productive applications using APPUiO Public Shared or a Dedicated Node.
Managed Private: Your own private container platform on Exoscale where APPUiO takes over setup and operation.
Capabilities and components
APPUiO is a one-stop solution.
We're accompanying our customers all along the value creation chain of both their platform and application – from planning via installation to operations.
Additionally, we're glad to assist you with our long-standing experience with container technologies. All collaboration is organized modular and our services can be procured individually or bundled. We're not only providing help with architectures, setup and operations, but also offer 3rd-Level-support, professional training for both operating and monitoring OpenShift and other container solutions as well as consulting all around the topics of "Moving Apps to the Cloud", "DevOps-Automation" and much more.
APPUiO supports the following technologies (among others):
Application Images

Apache
Java
.NET Core
Node.js
PHP
Python
JBoss/WildFly
Spring Boot
Wildfly Swarm
Ruby
Perl
Tomcat

Database Images

MariaDB
MongoDB
MySQL
Redis
PostgreSQL

Quickstart Templates

Apache HTTP Server
CakePHP
Dancer
Django
Jenkins
Node.js
Ruby on Rails
Please refer to https://www.openshift.com/products/features#supported-container-images for current supported images by Red Hat.
Version
APPUiO is currently running OpenShift 3.11 and soon on OpenShift 4.x (subject to change)
Technical Documentation and User Guides can be found on http://docs.appuio.ch/ and https://docs.openshift.com/
Pricing
APPUiO is available in two formulas and different sizes to suit on your needs:
APPUiO Public
Includes one OpenShift project with any amount of GB memory, Red Hat licences, Exoscale IaaS and self-service scalability function. Choose any amount from 0.5 to 20 GB RAM and 500 to 8300 mC CPU.
| APPUiO Public | Price per month (excl. VAT) |
| --- | --- |
| 0.5 GB – 500 mC | CHF 45.00 |
| 1 GB – 700 mC | CHF 69.00 |
| 2 GB – 1100 mC | CHF 109.00 |
| 4 GB – 1900 mC | CHF 189.00 |
| 8 GB – 3500 mC | CHF 349.00 |
| 16 GB – 6700 mC | CHF 659.00 |
APPUiO Public is officially available only in CH-GVA-2.
Would you be interested in receiving the service in another zone please contact us.
APPUiO Dedicated Node
Dedicated Managed OpenShift Nodes for your application with unlimited projects. In this mode the master servers are already included and you pay only for the dedicated worker nodes.
The mandatory sizing is N+1 for worker nodes, in order to allow maintenance or failover in case of issues.
Example: if your application consumes 2 workers with 32 GB, the mandatory purchase is 3 x 32 GB dedicated workers.
In addition to OpenShift platform, Red Hat licenses and Exoscale IaaS, the following Managed Services are included:
Monitoring
Update Management & Patching
Configuration Management
Backup & Restore
Support with personal contact person
| APPUiO Dedicated | Price per month (excl. VAT) |
| --- | --- |
| 16 GB | CHF 1149.00 |
| 32 GB | CHF 1399.00 |
| 64 GB | CHF 1799.00 |
| 128 GB | CHF 2099.00 |
| 256 GB | CHF 2799.00 |
APPUiO Dedicated is available in all zones.
Service and Support
APPUiO is operated by VSHN AG in Zurich, Switzerland.
SLA "Standard Office Hours" is included in the service:
Support times: 9.00 - 12.00am and 1.00 - 6.00pm CET.
For severity level 1, the reaction time is 4h during office hours.
SLA "Professional" and "Premium" can be purchased on request, offering support 24x7.
More details can be found on https://kb.vshn.ch/products/sla_en.html.