Acronis Cyber Protect
Product Overview
Acronis Cyber Protect is a comprehensive cybersecurity and data protection solution designed to safeguard businesses and organizations against modern cyber threats. It integrates advanced backup, anti-malware, and proactive protection features into a single, easy-to-use platform. With its powerful capabilities, Acronis Cyber Protect helps businesses prevent, detect, respond to, and recover from cyberattacks, ensuring the continuity and security of their operations.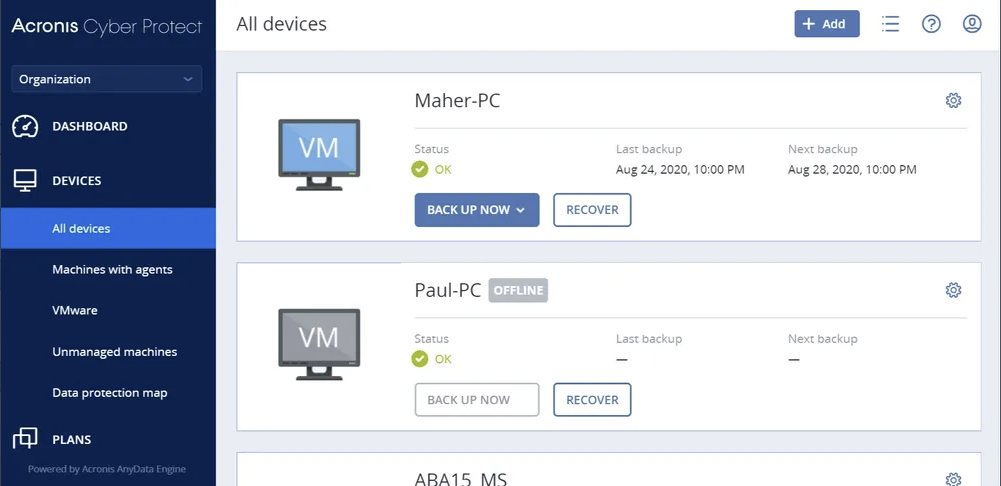 The S3-compliant object storage is operated in the Austrian data centers of Akenes SA.
Highlights
A quick start with no upfront investments
Easily manage all protection aspects via a single console
Eliminate performance and compatibility issues
Save time and hassle associated with managing multiple tools
An affordable solution, delivering lower total cost of ownership.
Editor Details
Acronis is a Swiss global technology company, founded in Singapore. The award-winning company is unifying data protection and cybersecurity to protect all data, applications and systems. With a powerful suite of products built upon the development of Acronis' popular backup solution, businesses and consumers alike are able to manage their storage efficiently without any data loss.
Pricing
The service is billed monthly based on the amount of storage used on the last calendar day of each month.
| | EUR/CHF/USD |
| --- | --- |
| Cloud storage / month / GB | 0.07 |
Subscribe to our service directly from the Exoscale portal.
Usage & Technical Prerequisites
Service and Support
Exoscale support is available Monday to Friday, 8 am to 6 pm CET/CEST by email.
Terms of Service
Exoscale acts as a qualified reselling partner for Acronis. As a customer, you accept the manufacturer's terms of use by completing the purchase on Exoscale. The terms of the Acronis End User Agreement, as amended on the manufacturer's official website, apply.