As a SaaS provider, you are asking your users to trust you with an app they rely on daily. But, even with a state of the art software architecture and following operational best practices, there will be incidents. Bugs slip into production, servers break, networks overload and data centers get struck by lightning.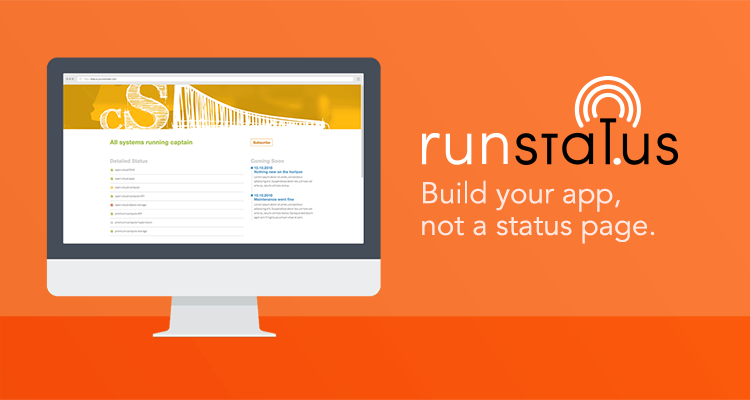 For these situations it is crucial to provide transparent information in a timely manner about what happened and what you are doing to resolve the incident. Just like we do for our services on the Exoscale status dashboard.
We at Exoscale want to provide the best cloud hosting service for people who build SaaS products. So we're working to include all the services you need to build and run your SaaS application, including a status dashboard.
That's why we've created Runstatus: it's a hosted status dashboard that lets you keep your app's users informed if something goes wrong or you need to announce scheduled maintenance.
Built to be simple
Using Runstatus is simple: you tell it about the distinct services that make up your app, link it to your Twitter account and then use either the web interface or API to post service status updates when you need. Once you've posted, Runstatus will share your update on your linked Twitter account and provide more detail on your own branded status page.
Built to be independent from your app
Runstatus has evolved out of the status updates system we've built here for Exoscale. That's why Runstatus is hosted in two separate locations outside the Exoscale network.
Give it a try
As part of our commitment to helping SaaS founders to focus on building their apps, today we've opened Runstatus for a public beta and we'd love for you to try it out. As a thank you, all beta testers get the first year on our Simple plan for free.
Sign up today and tweet us your feedback.